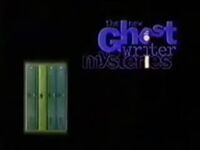 The New Ghostwriter Mysteries is a short-lived revival of Ghostwriter that aired on CBS Saturday mornings from September 14 to December 7, 1997.
While the premise is the same, there were several changes to the show:
There were new characters.
Ghostwriter's on-screen appearance also changed.
There was also a change in format from mini-series typed cases to standard new plots every show.
The new show was taped in Toronto, Canada.
Cast
Video