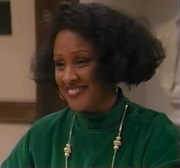 This Librarian appeared in the "Who is Max Mouse?" story arc. She was portrayed by special guest star Darlene Love.
This woman is one of two different librarians who work and help people at the Brooklyn Public Library. When Hector wanted to check out the book "The Ultimate Collection of Computers Facts and Fun", written by Cindra Tison and Mary Jo Woodside. She wanted to see his library card. He regretfully informed her that he didn't have one. She told him not to fret, because she could make him his own library card. All she had to do was to see something with his home address on it. Hector had just the thing with him: A postcard from Puerto Rico. So she was able to make him his very own library card.
Then a few days later, she helped Hector pursue some advice on what to do about being bullied. She got him a paperback book called "Wonder Kid meets the evil lunch snatcher", by Lois Duncan. She found the book for him. Then he sat down and read it. Hector seemed to really enjoy the book, finding it funny and helpful. Then he gave her a thumbs up and finished it.
Notes
Darlene Love is a famous singer, she is well-known for her hit songs "(Today I Met) The Boy I'm Gonna Marry" and "All Alone on Christmas".
Her name wasn't revealed.
Community content is available under
CC-BY-SA
unless otherwise noted.