Quincy "Quince" Torres, appeared in the "Building Bridges" story arc . He was portrayed by Joseph Herrera.
Quincy is one of five children in the Torres family. His younger brother is
Victor
. Also he has two much younger siblings, a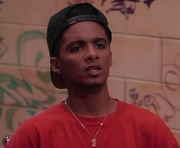 brother named Michael and a sister named Stacy. Also, his older sister Laurie has a baby, which is his niece. His mother works hard to support his family, and his father took off some time long before the events of the arc.
When Quincy was younger, he was in a street gang called The Thunder Heads. Then when he got a little older, he moved onto an older and more intense street gang called The Risers. Then six months prior to the events of the story arc, there was a rumble. Then he was shot in the back by a rival gang member. Now he is paralyzed from the waist down, and confined to a wheelchair for the rest of his life.
Quincy cares deeply for his family, and tries to keep a close eye on Victor. And to help his control his temper, and to make sure he doesn't return to the gangster lifestyle.
It eventually gets to the point where Victor seems to run away from home and school. Because somebody at Hurston Middle school was trying to set him up for trashing and Vandalizing the school. So he now felt that he could no longer keep up with him. However, He was very happy and relieved to see that his brother had made friends with a nice person like Rob Baker.
Then eventually, the Ghostwriter Team proved that his brother was proven innocent of trashing Hurston Middle School. Then He went to see the school's Star Jam which was a community jam against violence. He watched his brother Victor perform a rap that he had written just for him called "For Quincy". He cheered him on and enjoyed the rap very much.