Oko appeared in the "Lost in Brooklyn" story arc. He was portrayed by Paul Garrett.
Oko is a resident and citizen of Mozambique. He is a strong, honest and trustworthy person. For many years he has worked as both a bodyguard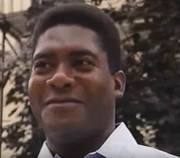 and limousine driver for the Ambassador
Roberto Simango
's family. He cares deeply for the Simango family. He also loves
Malenga
&
Safira
as if they were his own children. He and Safira have a close bond. Also he is the only one other than Malenga, whom is allowed to call her Safi.
In September 1993, Roberto was assigned to come to the United Nations in the USA for a special assignment. He and the Simango family got fancy rooms at the Steadmore Hotel during their visit. He came along with Roberto's family to protect them and to watch Safira when Roberto and Louisa were busy or not available. He was assigned to drive her both to and home from school. Also he is a very patient person. He will wait for long periods of time for Safira. When she is either visiting friends or sightseeing.
One day, he was assigned to drive Safira to Tina's house after school. However, Safira lied to him. She and Tina were planning to go around to check various produce markets around Fort Greene, Brooklyn for clues on where Malenga was. He didn't know that Safira used this trip as her opportunity to try and find her brother. Malenga had left Mozambique three years prior. After a serious argument and altercation with their father.
Then Safira begged him to let her walk by herself to Tina's house for just one time. He gave in and she gratefully thanked him. However, being loyal to her parents, he informed them that he let her venture out all by herself. The both of them, especially Roberto were furious. So for the rest of their visit, he was assigned to keep an eye on her at all times when the both of them weren't going to be available.
Then soon, Safira had a disagreement with Roberto about doing the things she wanted to do. So she ran away and got lost in Brooklyn. So he devoted his time driving all around the city trying to find her. He did not find her, but she turned up soon enough.