Mr. Tung appeared in the "Lost in Brooklyn". He was portrayed by Alan Tung.
Mr. Tung is a talkative, friendly, sweet, generous and an overall nice person. His distinctive feature, is that he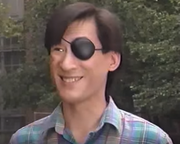 wears an eye patch over his left eye. His reasons for wearing it are unknown. But it could be either illness, injury or an untreated cataract that damaged his vision. He is also said to have a beautiful smile.
He is the owner and manager of a small market in Fort Greene, Brooklyn. His market is called "Jackie Deli Grocery Store". It can be assumed that it is a combination of deli, dry groceries and produce. He enjoys his job, and he is always happy to speak with his customers and visitors, if it isn't too busy.
Prior to the events of the story arc, Malenga Simango began shopping off and on at his market to buy coconuts. When it wasn't too busy, he and Malenga would talk to each other about their lives and families. Malenga especially told him all about his younger Safira and how much he missed her.
Then eventually some time went by and he didn't see Malenga again. Then Alex and Jamal who had been running all over Fort Greene looking for a man matching his description finally found him. He politely told them he did know Malenga, but he didn't know when he would come by again.
Then soon the Ghostwriter team made beautiful poster about the African folktale Why the Sun and Moon live in the Sky. To catch Malenga's attention and to ask him to call Tina's house to say where he was.
He loved the poster, and he gave them permission to post it right by the coconuts. That way Malenga wouldn't miss it. Then the next day, he finally met Safira. He didn't know at first that she had run away from her parents. So he gave her permission to sit in front of his market and wait for Malenga to come. He nicely allowed her to wait as long as she wanted. Also he even gave her an apple for a snack. Then eventually Safira felt she waited long enough and said goodbye to him. He gave her his word, that went Malenga came by he would ask him to call her friend Tina.
Then just after Safira left, Malenga finally came by. He was amazed and shocked to find out his sister had come to United States to see him. He was happy to see Malenga and told him that she just missed him. Then he nicely gave him permission to use his telephone. Then later on, when Safira was missing, he was called again. They asked him if she came back to his market and he said no.
Notes
Since he is the owner of "Jackie Deli Grocery Store", it is possible that his first name might be Jackie. However this was not confirmed.