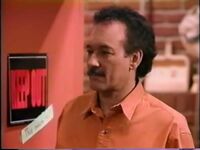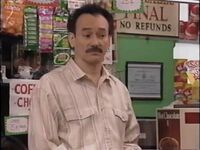 Mr. Eduardo Coro Fernandez (portrayed by the late Shawn Elliott) is Alex & Gaby's father and co-owner of a corner store in Fort Greene (aka The Bodega) with his wife. He and his wife hail from El Salvador.
The Fernandez's store is under an apartment rented by the Fraziers (Max & Lenni). At one time in the story arc "Get the Message", Mr. Fernandez got in a heated argument with Max due to an auto accident and it caused four of the team members to argue with each other as well. Eventually by the end of the story arc, everybody made up and stated talking to each other again.
In "Into the Comics", an earlier argument ensued but with his wife. This argument was about getting a new truck for the store. Mr. Fernandez wanted it, but Estella, his wife disapproves. The Fernandez siblings overheard their arguing and thought they were getting a divorce. So they cleaned up their room and help out more in the store in an attempt to save their marriage. The parents got wind of what the kids were up to after seeing them quietly walk into their room and told them that there is no divorce in the future and explained the real reason for the sudden argument as well as the true meaning of having an argument.
Gallery