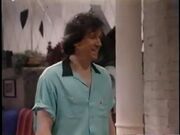 Maxwell Joseph "Max" Frazier is Lenni's father. Like his daughter, Max is an accomplished musician who plays the piano. He is also a good cook who makes strange dishes. Max even called his daughter Lenni, "Bips."
Max & Lenni live in an apartment above the Fernandez's store (aka the bodega). At one time in the story arc "Get the Message", Max got in a heated argument with Mr. Fernandez due to an auto accident and it caused four of the team members to argue with each other as well. Max became concerned because he did not want his problems to steer Lenni away from her friends. Eventually by the end of the story arc, everybody made up and stated talking to each other again.
Max lost his wife Colleen Frazier (nee McDonald) and Lenni's mother prior to the series and late in the second season he started to develop a relationship with Sally Lewis, an energetic but good friend of Lenni's.
Max was first portrayed by Richard Cox earlier in the series and then later in the series he was portrayed by Keith Langsdale.
Gallery
Lenni and her Dad
Mr. Fernandez & Mr. Frazier
Community content is available under
CC-BY-SA
unless otherwise noted.