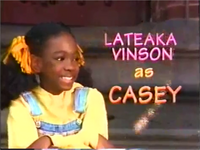 Lateaka Vinson is a former American child actress. She portrayed the role of Jamal Jenkins' little bratty and annoying cousin Casey Austin in the children's PBS show, "Ghostwriter".
She came to the show near the end of the second season, and remained on it until the end of the series, throughout the course of the brief third and finale season. Lateaka has apparently done no other acting since her final appearance in the show.
Besides "Ghostwriter", Vinson also did voice work for Richard Scarry videos.
Lateaka attended Hampton University and graduated in 2006.
These days, she currently works as a speech-language pathologist for the Talkative Group Speech & Orofacial Myofunctional Therapy in the Greater Los Angeles Area as of December of 2013.