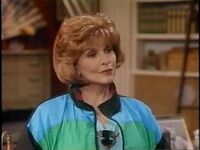 Lana Barnes (portrayed by the late Patricia Barry) appeared in "Who's Who?" story arc. She is an action movie star, born in 1925. She appeared in many movies such as "Wings of Glory", "Florence of Arabia", "Career Girl: Adventures in the Concrete Jungle", "Cowgirls of Courage Gulch". "Dangerous Curves", "Mobster in Mink" and a musical called "All Around the World". Tina Nguyen worked for Lana as her "Girl Friday" (a secretary); that means Tina has to reply to Lana's fan mail and give away autographed pictures.
Lana was married four times, the first three ended in divorce and the last ended in a tragic death (he was eaten by an alligator). The husbands were: Alan Charles, Carlo Peretti, ChiChi Gazebo and Sylvester Argyle Stylus III. She has one daughter from her second marriage named Janine Peretti, who had a life long grudge against her mother due to the fact that they didn't have time for each other. Her third married to ChiChi Gazebo ending in complete shock, while they were on vacation in Paris, France he was caught red-handed trying to steal the Mona Lisa painting. ChiChi Gazebo is currently serving a life sentence at a prison in France.
Lana Barnes was once victimized by who she and the team later figured out is her stunt double Roberta Halton. Halton wrote threatening letters to Lana and later disposed of her because she wanted the credit she deserved.
Later on she was mentioned during the events of the "Am I Blue?". Tina said that was so hot, that she made her own exercise video. Tina was seen walking with a VHS tape copy of it. The video was called "Lana Barnes, Aerobically yours!".