Kiambu, appeared in the story arc "Building Bridges". He was portrayed by Damon Harris.
Not very much is known about Kiambu. He is a nice African American boy who also attends
Zora Neale Hurston Middle School
. Just before the events of the "Building Bridges" arc, he became friends with
Lenni
and
Alex
.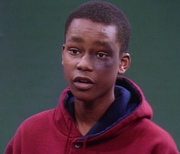 Then he and Walter Haines, along with Lenni and Alex formed their school's Star Jam Committee. The job was to prepare and organize the school years upcoming talent show. Then one night, he and Walter were scheduled to meet with Alex at Lenni's Loft for a Star Jam Committee meeting. Then just before he got there, he got jumped and mugged by a group and street gangsters. When he arrived at Lenni's Loft, he had a black eye and the wind knocked out of him. Then he explained to them that they also stole his money.
This was also a major concern, because recently Fort Greene, Brooklyn had a lot more street violence going on. The word was out that a new gang was moving into the area. Therefore, the current gang wanted to show how tough they were to ward them off. So him and a lot of other kids in the area were getting mugged and beaten up.
He begun to recover, just in the next few days. Then one afternoon, Walter had a huge temper tantrum at one their committee meetings. He was expected to back up and support Walter, in the notion that he should be director of their committee instead of Lenni. However, much to his friends chagrin he didn't support him. He felt he was wrong and that Lenni was better suited for the position. This caused Walter to throw a tantrum. Then to trash all the sign up paper and quit.
Then eventually he, Alex and Lenni, found their own way to organize the sign up shows for the star jam. The idea was to place them into three separate sections. Singing, dancing and instruments. Then he came up with the good idea, for a NOT section. The section to organize all acts that aren't for singing, dancing or playing instruments. Also he made the proper arrangements for kids to take the tickets to the show.
Then soon, when someone begun vandalizing and trashing the school, there was the possibility that the Star Jam would be cancelled. Then Lenni came up with a great idea, to open up the entire Star Jam to their entire committee as Community Jam against violence.
Then just a few days before, he found out the truth about Walter. It seemed that he was constantly spying on him Lenni, and Alex. However, he wasn't trying to find a way to sabotage their committee. Instead he was just trying to find a way to get back into their committee. So he happily let Walter help him tie up some of their committee's loose ends.
Notes
His last name was not revealed.