Joseph, appeared in the "Get the Message" story arc. He was portrayed by Bo Jackson.
Joseph is a security guard for the "Up Against the Wall" Art gallery. His boss is
Darryl Thomas
. Joseph appears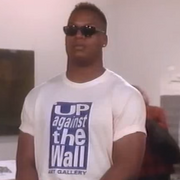 to be a tall, muscular and intimidating man, but is actually very friendly and sweet.
During the events of the story arc, a thief named Daniel O'Connor stole a valuable painting from the gallery. The painting was the original work of art of for the Mighty Clean Laundry Detergent advertisement. The painting was done by the thieve's late father famous artist Jarvis O'Connor and was worth $5000.
Joseph chased the thief all the way down the street, but eventually he accidentally tripped and fell down, so the thief got away. A couple days later, Jamal Jenkins came to the gallery to explain to them that the thief he chased after was responsible for a major traffic accident. One in which the thief accidentally made Eduardo Fernandez Swerve to get away and then crash into Max Frazier's musical instruments.
When asked by Jamal Jenkins if he had seen who ran in front of Mr. Fernandez he said he didn't see the accident. But he heard the sound of the crashes. This was proof for Jamal that a man actually did run in front of Mr. Fernandez's truck.