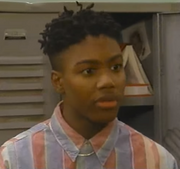 Jason
 first appeared in the
"What's Up with Alex?"
story arc. He was portrayed by Z. Wright.
Jason is a student, who attends Zora Neale Hurston Middle School. It is unknown what grade he is in. Since he has a girlfriend, it can be assumed he is in the eighth grade. During the events of the story arc, two students attending Hurston were breaking into students' lockers and stealing things to sell to a fence.
Soon he found out someone broke into his locker, and stole his valuable gold bracelet. This was a present that was given to him by his girlfriend. He was furious when he found out he was robbed and hit his locker. Lenni and Tina asked him what happened and he explained it to them. Then they asked him if anything specific was written on the bracelet, so they can help identify it. He told the the bracelet had the words "Luv U 4 Ever" written on.
Eventually, one of the student thieves Kevin Michaels turned out to be the one who stole it. He tried to sell to a fence named Big Ralph. Just as Kevin tried to sell it to Big Ralph, Big Ralph was arrested and all the stolen property was confiscated by the police. He eventually got his gold bracelet back.
Then he made his final appearance during the events of "A Crime of Two Cities". During this time, he attended a two day drama workshop taught by teacher Jane Chapman. He learned how to act and to do improvisation.
Also, he did a successful scene with Hector. It was an improvisation scene about two brothers arguing over spending alone time in their bedroom. He played the part of the brother who just wanted to watch sports and cheers with a lot of enthusiasm. And Hector played the part of the brother who wanted peace and quiet so he could study for an upcoming school test.
He played his part really well and stood his ground, believing he was there first. So he refused to leave or turn down the volume. But Hector beat him, when his character refused to leave as well, and took the pretend television away from him. He and Hector did a wonderful job, and the class cheered and applauded them. Also he and Hector high-fived and became friends. Later on, it was shown that he also did a scene with Jasmine.
Community content is available under
CC-BY-SA
unless otherwise noted.