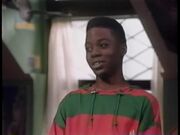 Jamal Jenkins (portrayed by Sheldon Turnipseed) was the first teenager to see the mysterious "Ghostwriter."
Highlights
Jamal lived in a small brownstone with his grandmother Cecilia (Marcella Lowery) and his parents Reggie & Doris and older sister Danitra.
Precisely one year before the events of the show took place, he was in the sixth grade. When he was a freshman to Hurston Middle School, he was bullied and hazed by a mean-spirited bully named Lamont Sampson. Lamont tricked him into thinking the school had a swimming pool and sold him a fake pool pass for two dollars. Then soon afterwards, Lamont beat him up giving him a black eye, after which Jamal reported him to the principal. Jamal was really embarrassed and humiliated from these events, and this could be his possible reasons for taking up his interests in weightlifting and martial arts.
Then in the first episode (when the current events of the show begun), he inadvertently released a "ghost" from an old book. During this time, his older sister Danitra was heading off to college (the reason for Jamal and his father being in the basement trying to move an old trunk). In the interim, she gave her computer to Jamal for safe keeping. While Jamal was in his room setting up the computer, the "Ghostwriter" began writing to him. In a way, Jamal became the de facto leader of what was soon to be called the "Ghostwriter Team." A scientist at heart, he often dreamed of conducting experiments in space. He was also into karate. Jamal also has a crush on fellow student Jasmine.
Later on, viewers were acquainted with Jamal's younger cousin Casey Austin, to whom Ghostwriter also communicated.
By the end of the second season, Jamal learned that he was admitted to a High School of Science.
During the final story arc of Ghostwriter, Alex, Lenni and Jamal graduated from Hurston.
Major Storylines
Notes
Jamal is in the epilogue of the 2019 reboot Ghostwriter book Trinity, along with Gaby.
Gallery
Community content is available under
CC-BY-SA
unless otherwise noted.