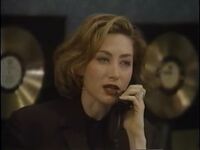 Jade Morgan (portrayed by Annabelle Gurwitch) is the president & CEO of Smash Records, a music company where in the story arc "Don't Stop the Music" Lenni Frazier presented her song "You Gotta Believe." Formally, she worked at In Your Face Records alongside her partner and publicity director Sonia Ivey. Sonya stayed with Jade when they left that company together and started Smash Records.
In 1975, she was at a gas station one evening and heard a young man singing in a beautiful voice. This young man was Leif Shaunessy. She helped him become a teen idol and a big star. She became his manager, but soon afterwards he had three new songs that flopped so she dropped him, and he blamed her for his failure. Then a year before the events of the story arc, Leif was in desperate need of a job. So she hired him to work for her studio as a gaffer.
One day, Jade called Lenni to tell her that she heard her song at the Star Jam! in Hurston and asked her to do a new song at Smash which she did. Jade liked the song very much that she decided to make a music video of that song. But while the filming occurred, strange accidents have occurred including a blackout, a light coming down from the ceiling, copies of video tapes erased and the original stolen. But the team got together, solved the mystery, caught the culprit and saved Jade and her company.
Gallery