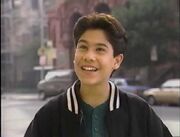 Hector Carrero was another Latino who discovered Ghostwriter. He was portrayed by William Hernandez.
Highlights
Hector is the young man for whom Alex acted as a "Big Brother" kind of a mentor. He had trouble speaking and writing English at times, since he and his family are Latinos from Puerto Rico. Hector would usually receive help with this from Alex on occasion, one example being he was briefly picked on by a bully named George and with Alex's help he finally stood up to George and George stopped bullying him. He was also heavily into playing handball.
Major Storylines
"Lost in Brooklyn"--Hector meets Alex, Ghostwriter and the rest of the GW Team for the first time. He also joins the team after Rob's departure.
"Who is Max Mouse?"--Hector stands up to a neighborhood bully with Alex's help.
Gallery
Community content is available under
CC-BY-SA
unless otherwise noted.