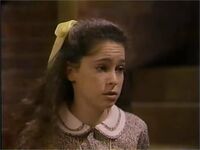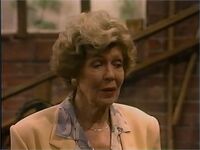 Catherine Canellan is a major character in the story arc "Just in Time". Her best friend and foster brother Frank Flynn was in trouble for a crime he didn't commit. She had to rely on Ghostwriter and the team and eventually her crafty sister Lucy to help her and Frank clear his name.
Catherine grew up and married Frank and soon became a detective story writer. Catherine helped the team find Ghostwriter in Frank's diary, which he kept in a brick in what is now the Jenkins' basement.
Young Catherine Canellan was portrayed by Grace Johnston and Adult Catherine Canellan was portrayed by the late Augusta Dabney.