Alan Charles, appeared in the story arc "Who's Who?", he was portrayed by the late John McMartin.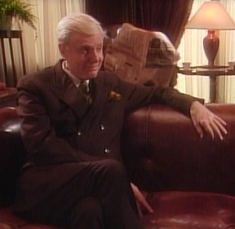 In the early 1940's Alan Charles was a movie director. He directed the movie "Wing's of Glory". He helped to launch the career of the famous actress Lana Barnes and helped her get her big start to fame.
Then soon enough, he and Lana fell in love and got married. He became her first husband. They had a reputation of being a happily married couple. Until suddenly shocking news came out that she dumped and filed for their divorce. At this time, he somehow went bankrupt and left town heartbroken and penniless.
Then during the 1990's he traveled to Brooklyn, New York. He came there to attend the Lana Barnes' Award Ceremony for her lifetime achievement in the movie industry. He was one of the many famous guests who was staying at the Steadmore Hotel. This place also happened to be where the Award Ceremony was taking place inside a fancy ballroom.
Then the Ghostwriter team found out that someone was sending Lana Barnes threatening messages to harm and possibly kill her he was one of their suspects. They suspected it might have been him because she broke his heart and dumped him.
Then Gaby soon interviewed him to find how he really felt about her. It turned out that he was a millionaire. A short time after they divorced, Lana introduced him to his business partner. He and his business partner made a fortune on the stock exchange. He feels that owed it all to her and he revealed that he was still madly in love with her. This was more than enough to exonerate and clear him from being one of the team's suspects.
Then on the night of the Award Ceremony, an impostor had gotten a copper bob wig and stole Lana's ruby red gown. She also tied and gagged her away. The impostor was Lana's stunt double Roberta Halton. She felt she was the one who rightfully deserved the reward because Lana took the credit for all the dangerous stunts risks she took.
Then just as Lieutenant McQuade proceeded to arrest her, she tried to lunge at Lana. Then he and Stone Harrison (Lana's old Co-Star) helped hold Roberta in a restrain so she could be handcuffed and taken away.
Then a few days after the Award Ceremony, he invited both Lana and her daughter Janine to go horsebackriding with him. Also to possible rekindle their old romance.